Autoclave Chamber & Load Temperature Probe (SL150)
The SL150 is a temperature probe designed for use in pharmaceutical autoclaves to measure the temperature of either the inside of the chamber or the load being sterilised. With its sleek and flexible design, it is an alternative to the Steriprobe® autoclave load probe when space is an issue.
Available in either PT100 formats, to class A, AA and 1/10 DIN tolerances, or type T thermocouple. Probe dimensions start at 3mm with a chisel tip option for piercing bottle tops. For probes with a 90° bend please view the SL160 range.
Mounting Options
For this style of probe, the seal is made directly onto the cable, using Teflon® olives
Hygienic Compression Fitting for single or multiple probes.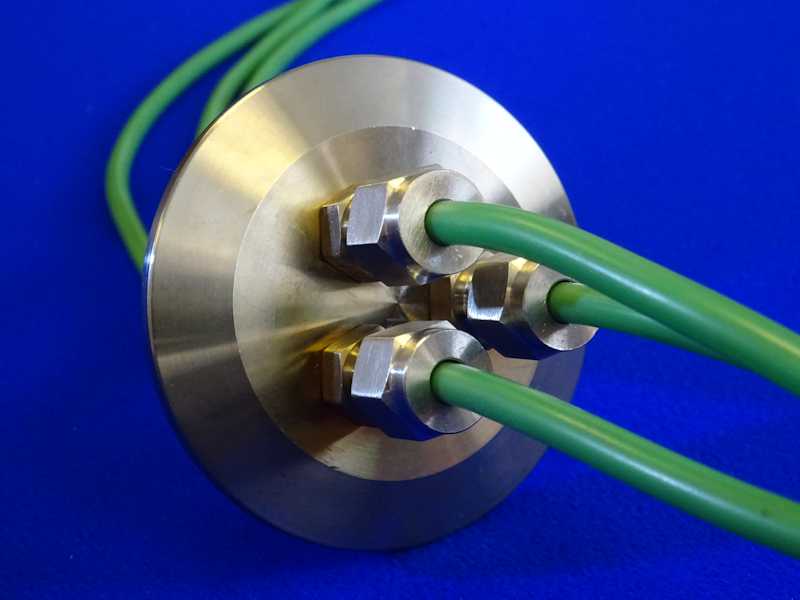 or threaded compression fittings for a single probe also available with BSPT, BSPP, NPT and Metric threads.
Please use the Product Enquiry Forms to indicate your requirements
Product Features
SL150 specified by satisfied end users and autoclave manufacturers for many years.
Used extensively in steam and water cycle autoclaves
Offers increased flexibility with optional probe tip configurations.
Available in PT100 RTD (Class A, AA as IEC 60751:2008, also 1/10 DIN)
Available in thermocouple formats (type 'T' Class 1 as IEC 60584-1:2013 as standard).
All metallic parts in Grade 316L (1.4404/1.4435) stainless steel.
Sensor conductors Teflon® insulated, outer jacket in thick walled extruded silicone rubber, FDA listed 21CFR 177 2600.
Silicone rubber jacket to USP VI also available on request.
Available in many sizes and custom requirements to order.
Standard units ex-stock.
Known in the USA as 'Sterisensor'
Feedthroughs to suit
Product Enquiry Form