Single and Multiple Probe Conax Feedthroughs with SPLIT internals (PGS, SPG, SPGA & DSPG)
The Conax range of glands with split internal fittings are ideal for use on elements where the diameter of the tip/bulb is larger that the diameter of the element.
There are three types of split internals:
PGS series has single split to seal on a single element
SPG/SPGA series has a single split to seal on multiple sensors/elements. The SPGA has published hydraulic and pneumatic pressure ratings
DSPG series has a double split to seal on multiple sensors/elements.
Remember that replacement sealants (RSC) and all internal components (RPS) are available as spares.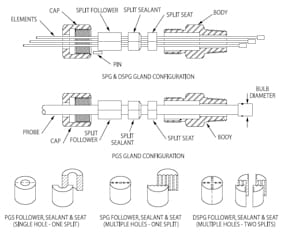 Product Features
All wetted parts in Grade 316 stainless steel.
Probe sealants in Teflon® or Viton®, Lava and Grafoil®
Temperature range from -240° to +870°C
Pressure range (@20°C) Vacuum to 690 bar
NPT process thread as standard and from 1/4"NPT to 3/4"NPT
BSPT, BSPP, SAE & Metric ISO threads available
Optional types of mounting arrangement, screwed, weld-neck or Tri-clover flange (for sanitary/hygienic applications).
Hole sizes from 0.5mm (0.020") to 1/2" (seals 2 to 17 elements)
For gas or liquid.
Elements are independently adjustable.
The sealant, follower and seats have splits to facilitate easy sealant change.
Replacement sealants are available to enable repeated use
The PGS, SPG & DSPG range of sealing glands is manufactured by Conax Technologies.